SDCC08 Review: Hasbro Comic-Con Exclusive Star Wars Mighty Muggs Commander Gree
Gritty clone soldier or cute and chunky figure?
by Scott Rubin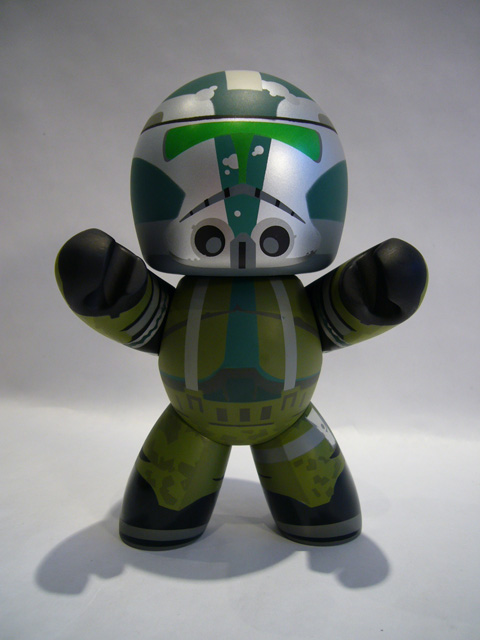 Looking back on 2008, one of the breakout success stories has to be Hasbro's new line of urban vinyl-inspired Mighty Muggs. Simple, chunky, and cartoony, the Muggs were met by a wide range of reactions from utter disgust to absolute joy. With its slick packaging and excellent character choices though, the line has definitely made a place for itself with collectors. 2009 promises many more Mighty Muggs in their Star Wars, Indiana Jones, G.I. Joe, Marvel Comics, and Transformers licenses.
Fans of the Mighty Muggs and of Star Wars in particular got a special treat at Comic-Con this year, the exclusive Commander Gree! (Note: despite having the same rank and "job" as the previously released Clone Commander Cody, Gree does not have the "Clone" appellation.) Incredibly long lines and wait times were necessary to get a hold of this figure. Was it all worth it?
Commander Gree appeared in Episode III as the clone leader under Yoda. He organized the defense of Kashyyyk, home of the Wookiees. Upon the announcement of Order 66, Gree attempted to assassinate Yoda, but the elder Jedi was too quick and the Commander literally lost his head. In the new CG Clone Wars TV show Gree appears again, partnered with Jedi Luminara Unduli.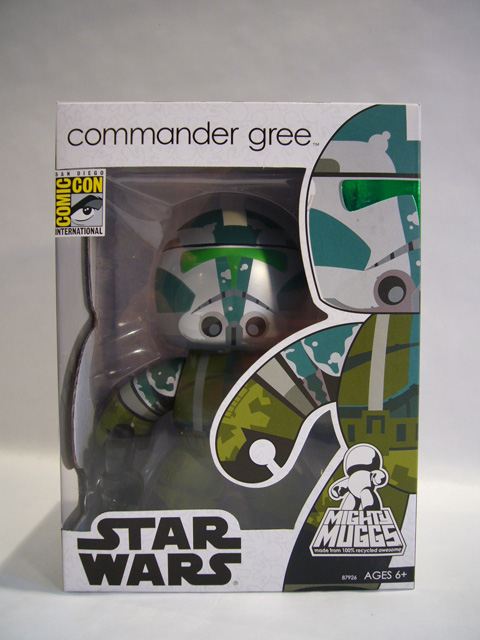 Commander Gree came in the standard Mighty Muggs window box. The front shows off the figure inside, with the Star Wars and Mighty Muggs logos on the bottom, an image of the figure on the right, and his name at the top. On the window is a small San Diego Comic-Con sticker. The sides of the box each have the same image of Gree, while one has a background of Mighty Muggs silhouettes. The back of the box repeats the image yet again, and shows the figure and his accessory above a lineup of other Star Wars Mighty Muggs. As always, the top of the box is essentially a close-up of the character's face. One cool thing about this packaging is that on every image of Gree, his visor is shiny and reflective!
The standard Mighty Muggs body is in effect here, as it is for most of the line. About six inches tall, the Mugg is composed of six pieces: an enormous spherical head, rotund body, and tube-like limbs. In general, each Mighty Mugg can either have a sculpted difference or an accessory (but sometimes neither or both). Gree is the latter. As far as sculpts go, they don't get more basic. But, like a lot of other urban vinyl types, the simplicity is part of the charm. The thick body and simple limbs are cute, and the big ball head offers plenty of room for painted personality.
While the basic clones as introduced in Episode II wore plain white armor, advanced ranks were distinguished by color accents. In Episode III, the number and variety of clones exploded, with colors, additional parts, and lots of individuality. Gree really typified this, with his intricate paint scheme. To start, he's got a lot of green, but can't seem to decide on a style. There's olive green camouflage on Gree's upper legs, lower arms, and back. His chest has the same color, but it's overshadowed by gray suspenders (yes, suspenders). Gree's helmet and upper arms have a different color scheme, with a brighter green, silver, and gray. While all of that would be interesting on its own, Gree's armor has clearly seen a ton of action. There are scratches in the paint, splotches, and worn areas. All of this, plus the unique shiny green visor, really make Gree an individual!
Commander Gree has the basic Mighty Muggs articulation, consisting of three joints at the neck and shoulders. It's not much, but again, this style of toy doesn't warrant any more. The joints are extremely tight and will hold any position. Gree's chunky arms end in open fists, exactly shaped to hold his included accessory. The commander has a standard clone trooper blaster pistol, the same that came with Clone Commander Cody.
Like all Mighty Muggs, Commander Gree is a fun figure. He's got a pretty amazing paintjob and deco, and looks great with other Star Wars Muggs. He made for a great Comic-Con exclusive, worth the long lines. But, even if you weren't there you havenít missed out on your chance to get Gree. He's available now at hasbrotoyshop.com!