North
The North wall contains some of my favorite toys, and a few I've had since I was a kid. It's also another Ikea-fest, with two Billys and two Detolfs. Through the middle you can get a glimpse of my "photo studio" where I do my reviews.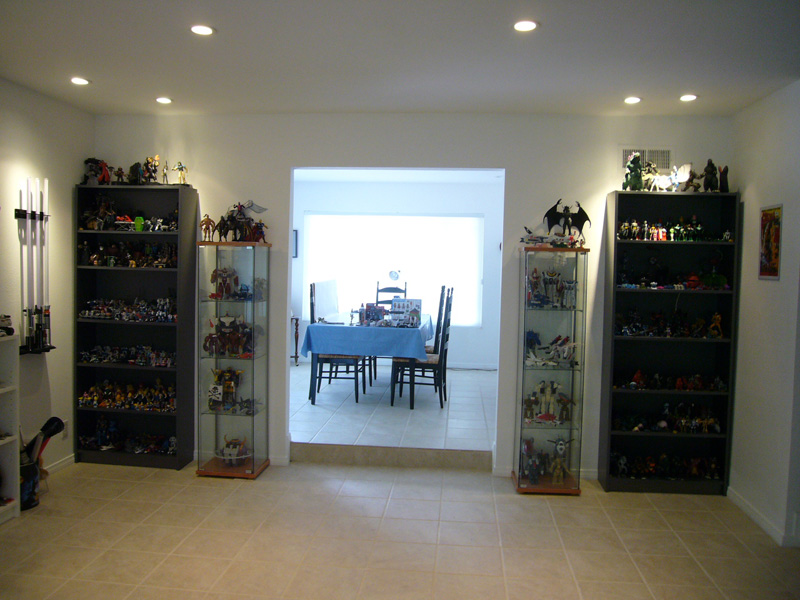 Just outside of the toy room is Green Lantern by the artist Crash. My father bought it for me and took me to a gallery exhibition where the artist signed it for me.
Between that and the Billy is a relatively empty wall with a cool mini Godzilla film poster. I'm going to be hanging a variety of Sci-Fi weapons below that. I've got a couple phasers, Megatrons, PK Pulse Pistols from Farscape, etc.
In this Billy is a variety of comic book figures, War Planets, Godzilla, monsters, and more.
Way up in the stratosphere are a couple latter-day Godzillas, some Angel/Archangels, a Venom, McFarlane Trash Monster, and a Dune Sandworm. On the shelf below that is my comic book collection, dominated by Green Lanterns. It usually extends all the way to the corner, but due to an eternally shelf diving Total Justice Parallax and a recent review my Hal Jordan's are out of commision.
War Planets/Shadow Raiders. These were only in stores for a short time, bridging the original video game with the fantastic TV series. From left to right is Planet Ice and accompanying moon, the Beast moon Remora, Planet Rock with moon, the Beast Scorpion tank, Planet Tek (in Voxx configuration), Planet Fire, and Planet Bone with moon. In front are the many foot soldiers, vehicles, and monsters.
My wife's Neon Genesis Evangelion shelf.
Small scale Godzilla figures, mostly candy toys from Japan. Of note are the several "meltdown" Godzillas from the awesome Godzilla vs. Destroyer (Gojira VS Desutoroia) and the custom Godzilla antenna ball painted by my grandfather.
The next shelf has my Starship Troopers Arachnids collection. These come from both the figure line and the Micro Machines. On the right are some assorted figures, with Evil Ernie/Lady Death in the back, some Xyber 9, and Captain Power (see the Figure Flashback here). On the bottom shelf are larger scale Godzilla monsters.
Detolf #1: Robotech/Macross.
In the back left is an original Transformers Jetfire that I've had since I was a kid. Next to him are a Yamato 1/48 VF-1S Focker and 1/60 VF-1A Max (DYRL). Behind them is an old bootleg of a Takatoku VF-1J Milia Valkyrie, and in front is a Yamato 1/60 VF-1J Super Valkyrie (Max). The little guy is a Transformers card game Jetfire.
Here we have a bootleg VF-1J Max, a Toynami Robotech VF-1J Rick Hunter Veritech in Guardian mode, another bootleg VF-1J (Hikaru), and an original Bandai VF-1S Hikaru (Strike parts not shown).
The centerpiece of this shelf is a Matchbox Robotech SDF-1 that my parents bought for me when I was a kid. He's flanked by a couple of destroids. In front of them is the Transformers Classics Jetfire, a mini Transformers Robot Masters R-Blade (Jetfire), and a Doyusha VF-1J Max.
Ancient Matchbox Zentraedi Battlepod and Officer's Pod with latter day "Exo-Squad" Male Power Armor and Destroids.
The North-West corner.
Detolf #2: more Robotech/Southern Cross and MOSPEADA, plus some interesting Transformers.
Giant Starship Troopers Warrior Bug, Archangel, Beta Ray Bill, and SDCC07 exclusives Goro and Abe Sapien. Yep.
Robotech: The New Generation/MOSPEADA shelf. The big guy is an original Gakken 1/35 Alpha/Legioss, and the smaller red one is a Gakken 1/55. In the other back corner is Toynami Masterpiece Alpha Vol. 1: Scott Bernard. In the center is Masterpiece 4: Shadow Fighter.
A mix of Southern Cross and New Generation. All are Matchbox toys, with the giant Hovertank in the back, the Invid Scout and Trooper, and Red Bioroid. In the front is a Web Diver toy (see the next shelf), Jaguar.
Here's most of the Web Diver toy line. The central figure is Gradion, the large robot in the back. He transforms into a futuristic train, and can be plugged into a TV and used as a video game. Each smaller robot can attach to Gradion, giving him alternate weapons in the game. The pirate ship, Gallion, turns into a dragon warrior. Griffion, the jet fighter, turns into a bird warrior. Finally the hovercraft Sharkon becomes a shark warrior. Also on this shelf are mini Web Diver toys and the Yamato 1/72 YF-21 Omega One.
The bottom shelf holds Unicron. He used to perch on a unicron.com stand and was covered in mini-cons, until he suffered a horrible dive. One day I'll fix him up again.
Another greatly mixed Billy. Also visible on the left side are our three FX Lightsabers.
On top of the Billy are figures from the short-lived Shadowrun Duels line, as well as a couple Trigun guys.
This shelf holds anime and others. On the right side is Vampire Hunter D in the back, with Big O in front. Also on there are figures from Outlaw Star, Ghost in the Shell, Appleseed, Patlabor, Robocop, and Power Armors. In the front center is Canti from FLCL kicking it on an X-Files stretcher. On the left side are some horror figures, most notably Clive Barker's Talisac.
TV/movie shelf. From left to right: Pinhead, Chatterbeast, Legolas, Tetsuo (Akira), Puppet Masters (Blade, Six Shooter, Leech Woman, Pinhead), Farscape (Crichton and D'argo), X-Files Flukeman, Predator, Alien, Harryhausen creature, classic Cylon Centurion, Klingon Borg, Kubrick Master Control Program from Tron, mini Predators, Dagget from Battlestar Galactica, BSG minis, Star Trek TOC (Bones, Kirk, Spock), Robocop, Star Trek: Enterprise (Reed, Archer, Trip), Clive Barker's Tortured Souls, DRD, Underworld (Lucian, Viktor, Michael), and Davey Jones!
Robotech shelf #1. The little guys are Seika Macross Pencil Sharpeners, awesome vehicles and figures with lots of detail. Behind them are Toynami Super Poseable Veritechs, including some 'Con exclusives and the Macross variants. In the center are more Japanese Veritechs/Valkyries and I-Men. On the right side are Super Poseable Alphas in the back and I-Men and SD Morphers in the front.
Robotech shelf #2. There's a great mix of Japanese Veritechs/Valkyries on the left side, including Banpresto Perfect Transformations, Valkyrie Series, Bandai gashapons, and Bandai Micro Macross 1-4. Figures are original 80s Matchbox along with a Gakken 1/20 Transformable Ride Armor. The little guys are Toynami I-Men, and there are a couple more Pencil Sharpeners and models.
Dragonball Z!
Poor bottom shelf is another mish-mash. Starting from the left are War Planets figures, two Starcom fighters, and a bunch more Robotech/Macross.